Learn these tips to stretch your food budget
If you track your spending, you probably know how easily your food bill can get out of hand.
It's the budget category I have the most difficulty keeping under control, and yet it's one of the easiest to adjust when the budget needs to be balanced.
I could literally save hundreds of dollars on our food budget by planning ahead and sticking to a few rules.
I'm sure I'm not the only one who struggles with this, so I thought I'd put together a list of tips and tricks to keep your grocery & restaurant expenses down.
I have done most of these, and they really do make a difference in our budget.
When you learn how to stretch your food budget, you'll have more money to put towards savings or debt.

Would you rather print out this list? Get this free download of 50 Ways To Stretch Your Food Budget!

50 tips & tricks to keep your food budget low
Use the following tips to decrease your grocery bill, spend less at restaurants, and decrease your food budget.
1. Cut out snacks
I stopped buying "snacky" food a few years back. It wasn't serving our health and it was draining our budget. I've found that having 3 square meals a day is enough for my family. If one of us does get a little hungry between meals, there's usually some leftovers to munch on (which brings me to my next tip … )
2. Always save leftovers
Even if it's just one serving, it's worth it. I usually store leftovers in a glass container so I can pop it right in the microwave for quick prep. I also use a wet erase marker to write the date on it, so nothing wears out its welcome in our fridge.
3. Use every last drop
You might think this is a little overboard, but I always try to squeeze out the last bit out of a container, or use a spatula to scrape off every last bit of food in a dish. I know it doesn't result in a huge change, but I feel good knowing I used up every drop of that expensive heavy cream, or got 3 more uses from my hair gel. In the long run, it makes a difference!
4. Meal plan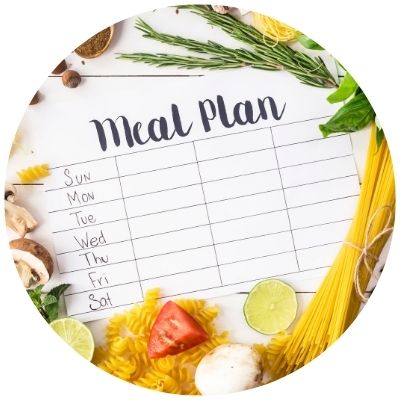 In my opinion, this is one of the most effective things you can do to keep your food budget low. I've found that if I don't have a plan, then the temptation to just go for a fast food run is too strong to withstand. So, I make a 2-week plan for the first half of the month, then rotate through it again for the last half.
Click over to this post to get a *free* 5-page meal planning set!
5. Shop multiple stores
I go to where the lowest price is, even if it means I have to shop at more than one store. Typically, this means I buy all of my meat and frozen vegetables at Sam's Club, and just about everything else at my neighborhood Walmart.
6. Shop online for deals
When there's an item that seems a little pricey to me (like almond flour), I'll go to Amazon.com and check out its prices. Many times I'll find it cheaper there, and with free shipping. We also use their Subscribe & Save program to shave a few more bucks off our bill.
7. Check out the clearance section
Walmart has a day-old bread shelf with the items considerably reduced. I often find bagels and dinner bread at a great price.
8. Know how to store produce
This little bit of information can keep your fresh produce last longer, so you don't end up throwing out black bananas and squishy tomatoes. Find out how to extend the shelf life of your fruits and veggies and get the most of your grocery dollars.
9. Shop when prices are slashed
Grocery stores will reduce prices on items like meat, bread and dairy if they are close to their expiration date. Ask a store clerk when these reductions are made, so you can get the best pick.
10. Visit the day-old bakery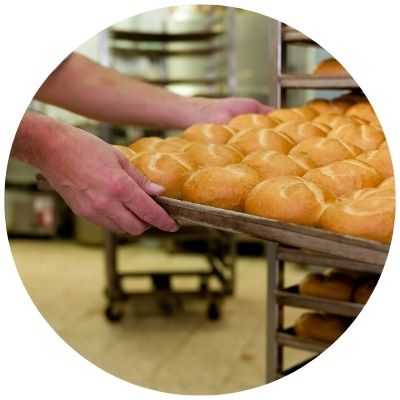 If you like to keep a variety of baked goods on hand, consider finding a local bakery outlet near you. The products may be slightly less fresh than your grocery store, but still tasty and at a fraction of what you'd normally pay.
11. Cook your favorite restaurant meals at home
When I come across a dish that I really like at a restaurant, I try to replicate it at home. I've made Chipotle bowls, Red Robin burgers, Panda Express orange chicken, and Noodles & Co macaroni with meatballs. It's much cheaper, and just as good!
12. Buy in bulk
This is when warehouse stores come in handy. Prices per unit are typically cheaper, so you get the most for your money. Just don't buy anything you're not going to use up before it expires!
13. Stock up on sale items
When I see something on sale that's a staple in our house, I'll pick up more than I need. This is usually an unplanned purchase, but I know I'll save money in the long run. As long as the food is shelf-stable or can be frozen, it won't go to waste.
14. Eat before you head out
Never go to the grocery store hungry! Shopping for food when your stomach is empty and rumbling makes you vulnerable to impulsive purchases that sound super tasty in the moment. Fill up before you go, and you'll find it easier to stick to your list.
15. Stick to water at home
I used to buy 1/2 cans of soda for those times a carbonation craving kicks in. But, I've since stopped buying these sugary drinks in favor of just water, and nobody really misses it. It saves me a few bucks and is a healthier option.
16. Or make your own soda
If you love soda too much and it's a priority on your grocery list, you can buy a soda maker and make your own soda at home. Investing in a Soda Streamer will be a substantial upfront investment, but if you typically drink soda on a daily basis then you'll save money in the long run. My husband has made soda water in the past, and we just add a few drops of flavoring to it for a refreshing beverage.
17. Buy frozen
I'm totally guilty of letting fresh produce go to waste on my counter. I always feel bad when I have to throw out fruit or veggies because we just didn't eat them in time. This is why I buy frozen whenever I can. You'll typically save money if you buy the large bags of frozen veggies and fruit, and they'll keep for a lot longer.
18. Use dried herbs
I do like fresh parsley and cilantro on occasion, but I always end up throwing out most of it (and wasting money). Keeping a stock of dried herbs on hand ensures that I always have what I need, without any waste.
19. Or grow your own
This takes time, but it's not difficult and you always have fresh herbs on hand. You also save pennies on the dollar compared to buying them in the store.
20. Shop seasonally
Buying fresh produce that is not in season means paying a higher price but getting less flavor. Wait until your favorite fruits and veggies are in season to get the most bang for your buck.
21. Skip the sweet stuff
Okay, so I do have a serious sweet tooth. But I know that the more sugar you eat, the more your body wants. So, I really limit how much sweet stuff I pick up at the store. I've stopped buying packages of cookies and boxes of brownie mix, and learned to curb my cravings. This saves me money, and keeps my family healthier.
22. Pack your lunch (and your kids')
I used to pay for my son's cafeteria meals because I was just too lazy to make them myself. That is, until I realized I was spending almost $100 a month on school lunches! Now, I pack a lunch bag for less than $1 and it's healthier than cafeteria food. I also take my own lunch to work, which saves me even more.
23. Try freezer cooking
This is part of the planning ahead tip mentioned above. Add your recipe's ingredients into a gallon ziplock and throw it in the freezer until you're ready to make it. Then, on those nights when you're feeling a little hangry, your dinner is already prepped. No need to spend money eating out!
24. Use meat as an ingredient
I rarely make a meal where meat is the main dish (like steak). Instead, I use recipes where meat is an ingredient, which keeps our meat consumption lower. So, I'll add ground beef to a sauce instead of making burgers, or I'll cut up chicken thighs and serve with rice and vegetables. This is super helpful if you have hungry, meat-loving males in the house that could eat 3 steaks in one sitting.
25. Incorporate meatless meals
These days I cook for me, my husband, and our youngest son. They both love meat and can eat 2 or 3 helpings for dinner. This can make the cost of one meal pretty expensive. So, to balance things out, I try to throw in a meatless dinner on occasion. A pasta or rice dish with just veggies and sauce can be extremely cheap to make.
26. Slow cook cheap cuts of meat
Large, tough cuts of meat can be cheaper per pound because they're more difficult to work with. But if you plan ahead and slow cook it in the crockpot, you can make a very tasty dish for less money.
27. Do your grocery shopping online
This is one of my most effective ways to keep our grocery budget in check. I always hated adding up every item on my phone's calculator as I put them in my cart, so I would rarely do it. This meant I would get to the register not knowing my bill until everything was totaled. But, if you do your grocery shopping online from your local store, you know what you'll be paying before you pick them up. This way, if you go over budget, you can make adjustments before you pay.
28. Take your own travel snacks
Filling up a plastic baggie with your favorite snack will keep you from paying 10 times as much in the airport, so it's always a good idea to take your own when you fly. But, I'll take a snack with me even if we're going on a short road trip if I know I'll get hungry. Granola bars, a banana, or a handful of nuts will save you from overpaying at convenience stores.
29. Fill up on rice and pasta
If you're not on the keto diet and you want to save a few bucks, you can stretch your grocery dollars by incorporating inexpensive, filling foods like rice, pasta, and beans into your meals.
30. Repurpose leftovers
You don't always have to keep your leftovers as originally prepared. I often throw in leftover vegetables into a pasta dish, or break apart leftover meatloaf to use in a soup. Be creative so you don't end up throwing away food that stayed too long in the fridge.
31. Try intermittent fasting
This one isn't for everybody, but if you can get in the habit of skipping a meal daily or occasionally, you can stretch your grocery budget even farther. I choose not to eat breakfast, so food like eggs and bacon and sausage last longer around our house.
32. Make your own sauces
I've been on the keto diet for about 6 months, so I've learned how to make sauces that I used to just buy in a jar. This has been really helpful, because I only make the amount we need, I can whip up a sauce whenever I want, and it's cheaper than buying store-bought. Even for someone who doesn't enjoy cooking, I find homemade sauces to be quick and easy to make.
33. Make your own seasoning mixes
Seasonings can be pricey, and then not used often enough to justify the cost. You can find recipes for seasoning mixes online and make your own. This saves you money and gives you more flexibility.
34. Save free condiments
Okay, so I'm not advocating for stuffing your pockets with ketchup packets and ranch dressing. But, if you have extra, unopened condiments that were included with your meal, then by all means, take them home. A little bit of honey mustard dressing or soy sauce could be all you need to add a little extra flavor to your dish, and you'll save on buying full containers at the store.
35. Brew your own beer
This one is for beer lovers (like my husband). My husband has been brewing his own beer for years, and proudly proclaims that each tall class costs him less than a $1 to make. Needless to say, we save a ton on alcoholic beverages.
36. Make meals with what you have
Do you have a mishmash of stuff in your pantry that you don't know what to do with? Try using a website like SuperCook to help you come up with unique recipes. Use up the food you already have instead of spending more at the store. Who knows, you may just come up with your favorite dish!
37. Skip drinks when dining out
I've gotten in the habit of just having water with my restaurant meals and thankfully, my kids have, too. This saves about $10 on our bill. (But, my husband makes up for it when he orders a glass of beer.) If you can stick to water and keep your alcohol consumption at home, you'll save a lot of money at restaurants.
38. Skip appetizers and desserts, too
You can easily double your restaurant tab by ordering these extras. One way to keep from giving in to the temptation of ordering $8 spinach dip is to eat a little something before you head out to the restaurant. This will give you self-control and keep a few bucks in your wallet.
39. Take your food to go
You can save on the tip and avoid overspending.
40. Choose pickup instead of delivery
I know, this one can be tough. Especially if you've had a long day or it's snowing outside and you just want to stay warm and cozy next to the fire. But as soon as I see how delivery can add $5-$7 to my $20 meal, it's easy to convince myself to go pick it up instead. (Plus, I save on the tip!)
41. Take advantage of local brunch or lunch specials
Many restaurants have a reduced-price lunch menu in order to generate more business during the middle of the day. If you love eating out and can swing it during the lunch hour, you'll save quite a bit. See if your favorite restaurants offer this, and ask your neighbors if they have a favorite place that has a reasonably priced lunch menu.
42. Go to happy hour
I usually stumble on this deal accidentally, but it sure is a nice surprise to find $3 nachos and $1 beer! If you're strategic about it (unlike me), you could fill up on happy hour food for cheap.
43. Take advantage of buffets
These don't save much for me, but we do save money on my husband and son! When you want a variety of all-you-can eat food, find a reasonable buffet to try out. The trick is to make sure to go when you're really hungry, and take your time so you don't fill up too quick.
44. Seek out kids-eat-free deals
This one doesn't really apply to my family anymore because my kids are older and we don't have any grandkids yet. But, if you have little ones in your life, finding these deals is a great way to save some money on dining out.
45. Split a meal
I love to eat out, but I don't really eat a lot. So, I will often split one meal with my daughter, which can cut down our restaurant bill by 20%.
46. Sign up for restaurant mailing lists
Most businesses want your email address these days so they can send you information on the latest sales and promotions. If you're on their mailing list, you can be informed of special discounts that you would never otherwise know about.
47. Look for Groupons
If you have a special occasion coming up, finding a deal on Groupon for a nice restaurant is a good idea. You can find these discounts for just about any type of restaurant you like, and you can typically lower your bill by $10-25. The important thing is to use the Groupon before it expires.
48. Use cash-back apps
Download and use apps like iBotta and Checkout 51 to earn cash back on your grocery bill. You accept offers at certain stores, send a picture of the receipt, and sometimes scan a product's barcode to earn rebates.
49. Stick to a list
The best way to avoid unnecessary and impulse purchases is by making a list and sticking to it. Go through your fridge and pantry and write down what you need, instead of scratching your head in the middle of the cereal aisle wondering if you need more Special K.
50. Set a budget
I saved the most important for last. Set a weekly or monthly budget for your grocery and restaurant spending, then do your best to stick to it. Using the previous 49 tips will help you stay within the budget you set, as well as stretch those food dollars even farther.

Grab this free download of 50 Ways To Stretch Your Food Budget!

Be intentional about stretching your food budget
Whenever you need to find a little wiggle room in your budget, usually you can adjust your food expenses.
The tips and tricks listed above can help you save hundreds of dollars a month that can be used to pay off debt or build up your savings instead. You just have to be intentional.
Begin with a budget, then start cutting costs and maximizing your purchases. With a little thought and purpose, you can reduce your spending on both grocery and dining out expenses.
Other posts you may enjoy:
Want to remember this post for later? Post it to your favorite Pinterest board!
How To Stretch Your Food Budget In 50 Easy Ways