Is borrowing from your 401(k) a good idea?
The world has turned upside down from just six months ago. The COVID-19 world health crisis has led world leaders to order their countries into some degree of self-isolation.
We've gone from being socially and professionally active in our communities to withdrawing into our homes and keeping our distance from anyone not in our immediate families.
#coronavirussucks
When my husband got furloughed, we decided to take out a loan against our 401(k). We may not need to use all of it before he goes back to work, but it strengthens our safety net for now.
You might be in a similar position, as you figure out how you're going to weather this storm. If you're wondering if it's a good idea to borrow from your 401(k), keep reading to learn:
how a 401(k) loan works
why you would borrow from your 401(k)
the pros and cons of getting a 401(k) loan
the alternatives you have to borrow money
Your decision to get a 401(k) loan is a personal one, and depends on your current financial circumstances. Learning the details of borrowing from your retirement fund is important to make the best decision – for today, and for your future.

How a 401(k) loan works
A 401(k) loan allows you to access your retirement funds early and then replace what you've borrowed – with interest – to replenish your savings.
When you borrow from your 401(k), the maximum allowed is typically $50k or half of your vested balance (whichever is less). But, since our nation is currently under dire circumstances, that restriction has been increased to $100k, or the entire vested balance (whichever is less).
With a 401(k) loan, the lender is also the borrower. So, you pay yourself back. The payments are generally taken automatically out of your paycheck and put back into the 401k fund.
The repayment term is usually 5 years, and can be structured weekly, monthly, or quarterly.
Because this is a loan, there will be an interest rate applied. However, the interest added to your payment is also added to your 401(k) fund.
Because a 401(k) is employer-sponsored, your company (along with the IRS) determines the specific rules for its employees. It's possible that your employer doesn't allow 401(k) loans, and that is completely up to their discretion. The best thing to do is call your human resources department to clarify the rules for your company's 401(k) plan.

Why would you get a 401(k) loan?
As long as your company's plan allows for 401(k) loans, you can typically borrow from it for any reason. Again, check with your employer to confirm this before trying to borrow.
A loan from your 401(k) is helpful if you have a serious short-term financial need. For us, we wanted to add a generous lump-sum amount to what we already had in our emergency savings. We are hoping this is, indeed, a short-term need that wouldn't extend beyond the next 6 months.
Right now, most of us are being affected by the COVID-19 world health crisis. You may be struggling to cover all of your living expenses while you're out of work and don't know when you'll get another paycheck. Depending on your situation, this could be defined as a serious liquidity need and a valid reason to borrow from your 401(k).
Of course, many people borrow from their 401(k) even when there isn't an active crisis. A few reasons could be:
covering medical expenses
funding home repairs
paying off high-interest debt
putting a down payment on a house
Borrowing money from your 401(k) can be quick, easy and very convenient.
Let's go over the benefits of this type of loan.

The pros of a 401(k) loan
One of the benefits of borrowing from your 401(k) is that it's not technically a loan, so the process doesn't follow the usual requirements for borrowing money.
As said previously, you are borrowing from yourself. This means that all repayments are made to you, including the interest. And since the rate is typically lower than other types of loans, you can pay it back faster.
There are additional benefits, as well, compared to other borrowing methods. These include:
little to no loan fees
no prepayment penalties
payments are made through payroll deduction
fast application process
no credit check required
few (if any) restrictions to borrow
default has less impact on credit
Many people choose this type of loan because of its accessibility and fast turnaround.
However, it's not the best option for every situation. There are some risks to borrowing from your 401(k) that you should consider before you ask for a loan.

The cons of a 401(k) loan
A 401(k) retirement account is typically invested in an assortment of stock and bond mutual funds. This means that the more money you have invested in the fund, the greater the potential gains you could experience.
So, one disadvantage of taking out a 401(k) loan is the risk of losing out on some of those gains because you've reduced the balance.
In addition, there are a few other reasons you'd want to pause before taking out a 401(k) loan:
If you happen to be separated from the company that sponsors the 401(k) plan you borrowed from, the remaining balance of the loan is automatically due within 60 days of departure. After that, the balance is changed to a distribution status, and will then be subject to taxes and a 10% penalty fee.
You may end up contributing less to your actual savings during the term of the loan if a portion of your regular contribution is being used to pay off the balance.
If you default on the loan, this could majorly affect your financial plan for retirement. Depending on the size of the loan, this could mean extending the time you would need to work.
Some plans limit the number of loans you can take at any one time. If your company's rules only allow for one loan at a time, you should be very certain that you won't need another one until the first is paid off.
Some of these consequences could have long-lasting effects, so proceed with caution. Borrowing from your 401(k) can prolong your timeline to retirement if you don't plan carefully.

Alternatives to a 401(k) loan
If you decide that a 401(k) loan isn't the best option for you, there are alternatives.
A personal loan could be a good solution. You'll need to meet certain qualifications and your credit history will be referenced. But, your payment structure will not be contingent on your employer, which means you won't be penalized if you switch jobs while you're paying it back. Shop around for the lowest rate and pay close attention to repayment terms and conditions.
You could also consider a HELOC (Home Equity Line of Credit) or Home Equity Loan if you're a homeowner. You'll need to have enough equity in your home to qualify, as the loan uses this equity as collateral. You should be able to find competitive rates and fees compared to other lines of credit, but you risk losing your home if you're ever unable to pay it back.
Another alternative to a 401(k) loan is using emergency savings. If you've been able to save enough to cover 3 to 6 months of expenses, consider accessing these funds before borrowing from your retirement account. You may resist wanting to do this because you worked so hard to build it up. But remember, it's there for emergencies! It's meant to be used for short-term financial needs when you're in crisis, so don't hesitate to spend it for this purpose. You'll save money in the long run, and paying back your emergency fund offers much more flexibility.
Finally, the simplest option to increase financial liquidity could be just to reallocate your budget so it allows for more money to be set aside for big expenses that come up. In other words, learn to live on less than you make. This takes time, patience, and discipline, but once you get into the habit of spending less than you earn, you'll always have extra for a rainy day.

Decide for yourself if it's a good idea to borrow from your 401(k)
Borrowing against your 401(k) could be a viable loan option for you. Especially if you don't have enough emergency savings or you're currently living paycheck to paycheck while encountering an unexpected crisis.
Typically the process of applying for the loan is fast and easy, and the money is in your account within days. This can give you the liquidity you need when you need it, and give you peace of mind.
Just keep in mind those long-term consequences that can occur if you're unable to pay it back. Weigh the risk of disrupting your retirement plans with the convenience of accessing a large influx of cash.
Other posts you may be interested in:
Want to remember this post for later? Pin it to your favorite Pinterest board!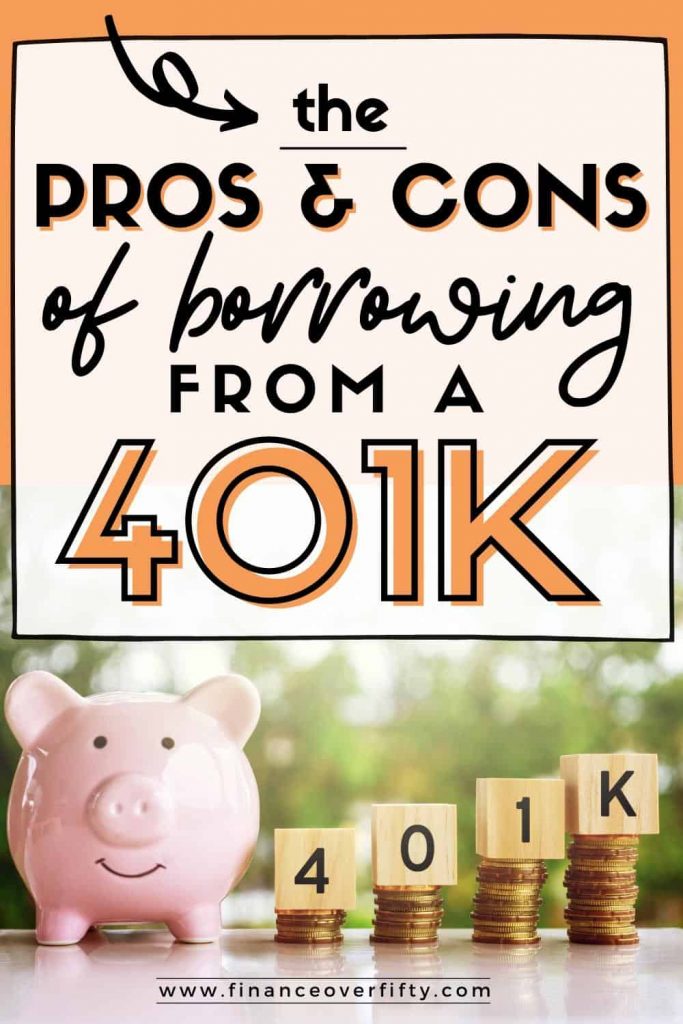 Is It A Good Idea To Borrow From Your 401(k)? Learn the Pros and Cons