5-Step Financial Checklist for June
Summer is days away from being in high gear. What's your plan?
If you don't have one, let this June financial checklist give you a little inspiration!
Now that things are returning to a higher degree of normal, you might have a vacation to look forward to, or activities lined up to make sure the kids stay busy.
Or, maybe your idea of a great summer is just laying by the pool or curling up on the couch with a pile of novels next to you.
Whatever you enjoy doing, I encourage you to soak up all the sunshine, relaxation and joy that you can take in. Be purposeful about making memories with your family and recharging your energy. After these last 15 months, you deserve it!
Take the time to fill yourself up as you continue to move forward toward your financial goals. Don't focus on any progress you've lost due to the pandemic. Start where you're at, set your eyes on the future, and begin moving forward.
You can use this financial checklist to help give you some direction as you're intentional with improving your personal finances, while enjoying the lazy days of summer, too!

Want financial checklists for every month of the year? Download this 3-page PDF for FREE!

1. Check your credit report
You should check your credit report at least once a year, and it's really simple to do (and free!). It might be especially important for you if you fell behind on loan payments because you were laid off or unemployed this past year.
Just go to www.annualcreditreport.com to request your free credit report.
Basically, you fill out a form, pick which report you want (Equifax, Experian, or Transunion), and then submit your request. You will need to repeat this process for each report you want.
Be prepared to answer some questions only you should know (which may require you to look in your financial records). I know, this can be frustrating, but it's to protect your credit information.
Things that you should look for when reviewing your credit report are:
that your personal information is accurate
the public records section is updated and correct
there are no mistakes or suspicious charges
any signs of identity theft
For a more thorough list, I found this great post on Nolo.com that you can refer to. Bonus: As of the date of this post, all 3 credit reports are currently being offered weekly for free due to the pandemic.

2. Review your memberships & subscriptions
Who doesn't like to set it and forget it?
This works great for a crockpot dinner, but when it comes to your money you should occasionally perform a manual review to make sure you're using what you pay for.
If you pay for memberships and subscriptions that you don't use, you're basically throwing money in the garbage can.
Take some time this month to determine if all those automated charges that you've long forgotten about are actually pulling their weight and adding value to your life.
Some possibilities include:
Gym memberships
Cable channel subscriptions
Your cell phone plan
Annual credit card fees
Amazon Prime
To make it easier for you, there are subscription management services like Truebill that will help you find all those recurring charges on your accounts.
It doesn't take a big-time investment, but you can literally save yourself hundreds of dollars!

3. Get a side hustle
If your work schedule can allow for it, consider getting a second job that provides flexibility and a little fun – even if it's just for the summer months.
There has never been an easier time to find a side hustle that fits in your schedule and is something you enjoy doing. The economy is getting stronger and businesses are opening up for full service once again. Why not make some extra cash to give yourself a little financial cushion?
What can make this additional income even sweeter is when you turn an interest or hobby you're passionate about into something that's profitable.
Consider these side gig ideas you could pursue:
tutoring kids
walking dogs
house sitting
being an Uber driver
starting an Etsy shop
creating websites
being a photographer
baking cakes
Any of these ideas have the potential to generate cash flow with only a minimum investment. And using websites such as NextDoor and Craigslist, it's easier than ever to let people know what service you offer – for free!
Who knows? Maybe your side hustle will turn into your main gig and you can quit that 9-5!

4. Review your online Social Security statement
Whether your retirement is close enough to smell or it's decades away, it's a smart idea to know what to expect from social security.
If you've been mainly focused on maximizing your 401(k) in the past, you may not have considered how much social security could contribute to your retirement income. But when you keep in mind that the average monthly benefit is over $1,400 (about $17,500 annually), it's easy to realize that social security income could play a fairly substantial role in your retirement budget.
So, it's really important to get a good estimate of how much you can expect and then plan accordingly. Social security by itself is not enough to support a comfortable retirement, but if you include it as part of your overall plan, the benefit can make a significant impact on your standard of living.
To review your online statement, just visit the Social Security site and create an account. There are a few obvious requirements (like having a social security number and a mailing address) but the process is pretty simple. When your account is active, you can view, download, or print your statement.
Besides providing the current amount of your retired benefits at various ages, it will also show you your entire earnings record as well as survivor's benefits for your spouse, child, or family.

5. Read a personal finance book
You no longer need to spend hundreds or thousands on hiring a financial planner. And you don't need to be intimidated by all the personal finance jargon that is pervasive on financial management websites.
Everything they teach or provide or suggest has already been mentioned somewhere else for free.
If you want to take control of your finances, you need to educate yourself. Stop depending on your brother-in-law's opinions or your neighbor's suggestions (unless, of course, they are already rich).
There are a plethora of books, magazines, websites, podcasts, and courses to help you become the master of your own finances. Figure out what your priorities are, then search for resources that will help you meet your goals.
Your biggest obstacle is not having too little information – it's actually having information overload.
So keep your list short. Find the authors and experts that you respect and admire, and who have already done what you want to accomplish. Then, read what they've written and do the same.
Here are some titles that are on my bookshelf:
Start Late, Finish Rich by David Bach
Financial Peace Revisited by Dave Ramsey
The Millionaire Mind by Thomas J. Stanley
Financial Freedom by Grant Sabatier
Your Money or Your Life by Vicki Robin
Take the initiative to learn about wise and effective money management. Knowledge is power!

Download financial checklists for all 12 months of the year for FREE!

Plan your checklist
Don't lose traction just because summer calls for lazy days, relaxing vacations, and patio parties.
Before you know it, you'll be shopping for back-to-school supplies and the latest high school fashions.
Be a conscious manager of your money by planning your checklist. Even the little steps get you closer to your goals.
Add some or all of these ideas to your planner or calendar, and schedule them to get done.
Then you can sit back and relax with your margarita by the pool, knowing you're doing what it takes to achieve financial freedom.
Other posts you may be interested in:
Do you want to save this post for later? Pin it to your favorite Pinterest board!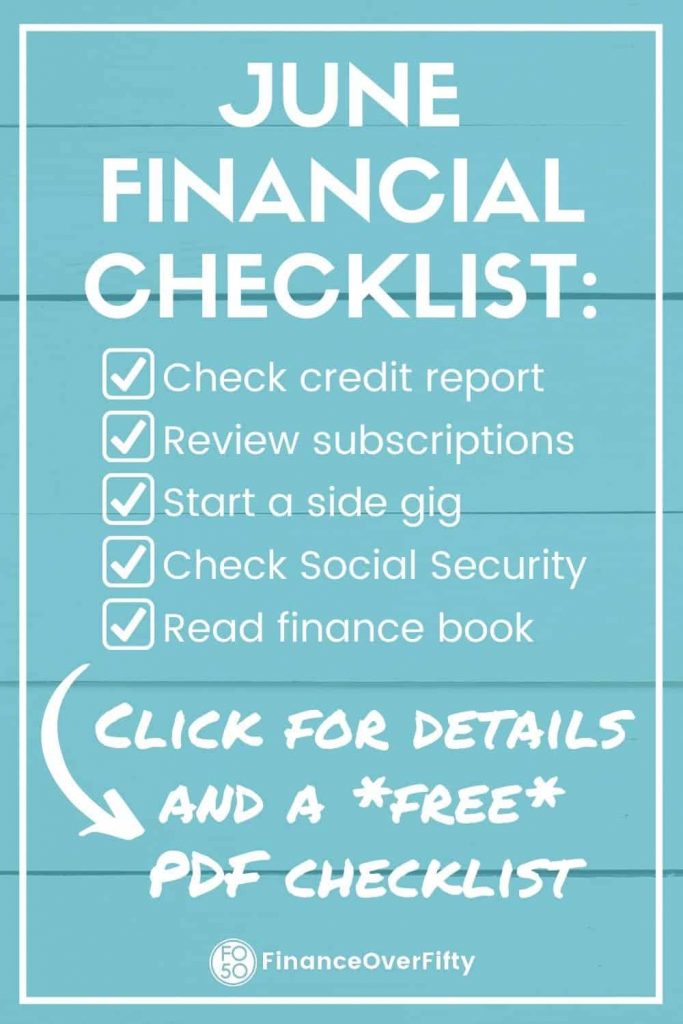 June Financial Checklist: 5 Easy Actions Steps to Improve Your Finances