You can save money even when you're broke
Saving money when you're broke might sound impossible, but it really isn't.
With the right mindset and strategy, you're totally capable of saving cash even when it seems like you don't have a dollar to spare. All you need to do is be willing and committed to the goal of saving money and you can be successful.
Don't let your lack of funds trick you into believing that your big goals are just pie-in-the-sky dreams. Those thoughts will only keep you stuck. Instead, set your mind on what you *can* control – even if that's only taking the smallest baby step toward a bigger bank account.
This includes your thoughts and your actions – including what you choose to spend money on. There are many circumstances in your life that might feel out of your hands, but it's important to remember that you have a choice in how you spend your money.
Your job, your house, and even your annual salary are all results of the choices you've made in the past. So, just because you're feeling broke all the time doesn't mean you can't make better choices for yourself now. If money is so tight that you can't even sock away a few bucks a month, then it's time to choose better options.
Taking a good, hard look at your spending habits will help you come up with a better financial game plan. With a little willingness and intention, you can learn to control your cash-flow and start building your savings account.
Now that you know there is plenty of hope to improve your finances, here are 15 of the best tips for how to save money when you're broke.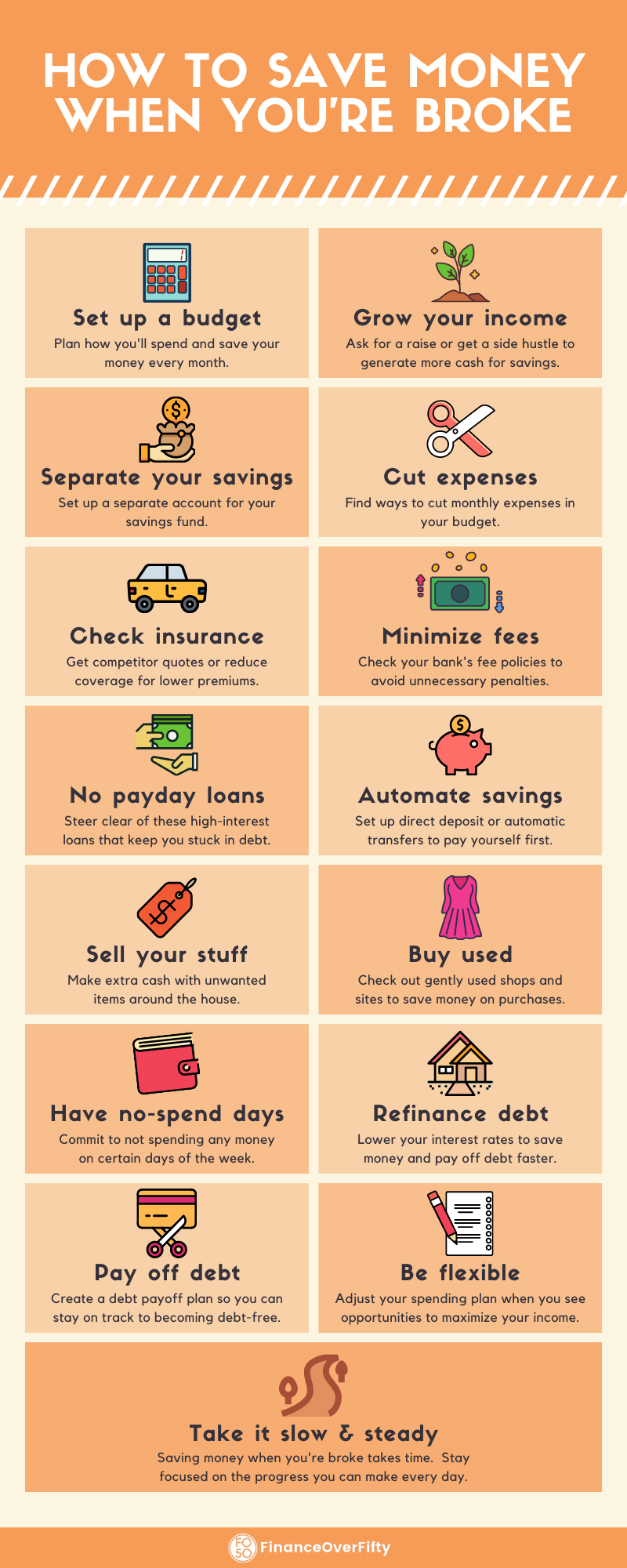 #1 Track your expenses & set up a budget
When your bank account barely has a pulse, one of the best things you could do to breathe life into it is set up a budget. This will help you track your spending and find where the money leaks are.
For the next 30 days, track every dollar that's coming in and going out. This includes all of your income, your bills, your food, any clothing or other personal expenses, insurance and gas, entertainment, etc. Know where every single penny is going.
At the end of the 30 days, analyze how you used your money:
Aside from necessary expenses, where did most of your money go?
What did you spend money on that isn't a high priority for you?
Do you have monthly expenses that can be reduced or eliminated?
What expenses can you substitute with lower-cost options?
How can you reduce your spending by 5%? 10%?
I know this all sounds tedious, restrictive, and inconvenient. But, trust me, it's worth it. You'll discover so much about your money problems just by tracking and analyzing your spending for a few weeks.
If you want to learn how to save money when you're broke, you need to have control over your fixed income and expenses. A budget is the best way to plan how you'll spend and save your money each month. It will give you a good overview of how you spend your money so that you can easily stretch every dollar as much as possible.
There are many different budgeting methods to choose from, so pick one that works for you. You could use good ol' pen and paper, a digital spreadsheet, or even a mobile app.
I personally am partial to the zero-sum method, because every dollar is accounted for. When you give every dollar a job, there are no spending leaks and you maximize your income. If you want to learn more, you can read this ultimate zero-sum budget resource guide.

Want to learn even more ways to save money? Download this free 50 Tips to Save More Money checklist!

#2 Grow your income
The simplest solutions are sometimes the most effective. If your finances are so tight that you are finding it a challenge even to survive, the next step is to earn more income. You can do that by either asking for a raise, getting a better-paying job, or working a side hustle.
Fortunately, in this digital age, there are virtually limitless ways to make a side income from the internet, such as answering paid surveys, offering freelance services, blogging, etc. But, you can also offer services around your neighborhood, or get a part-time job at Target.
If your main job has long hours and leaves you with little energy, you can find passive ways to make money. One option is to rent out a room in your home. This money-making opportunity requires very little of you, and is only a slight inconvenience to your lifestyle.
If a stranger in your house isn't appealing, consider pet sitting. Feeding someone's pooch and letting them run free in your yard is an easy way to bring in extra cash.
I know that working more doesn't sound like fun, but just keep in mind that it's temporary. The greater effort you put in now to create more income, the faster you can build your savings and scale back on the hours.

#3 Open up a separate savings account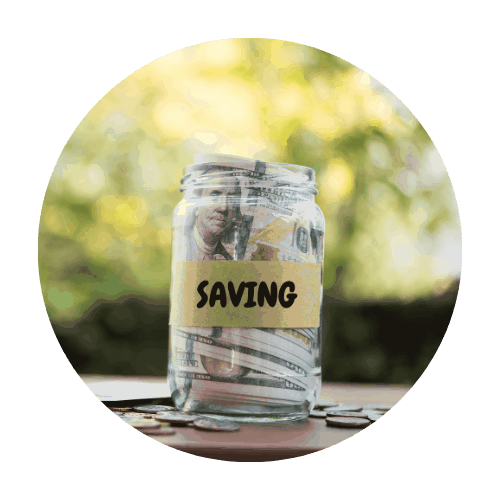 When you're broke, every dollar you save is special. So, set your savings apart from your other money. Treat it like it's a valuable and protected asset by giving it its own account.
Not only will this help you perceive your savings as reserved and dedicated for a specific purpose, but having a separate account strictly for stashing money will help you stay organized and focused.
When all of your money is dumped into one pot, it's easy to think you have more to spend than you really should. Opening a savings account will keep your spending dollars separate from your saving dollars, so you don't stay stuck in the paycheck to paycheck cycle.
In the beginning, you might think this is silly or unnecessary. After all, why go through the trouble if you can only save $5 a week? This is when you have to grasp the bigger picture.
To be a saver, you have to *act* like a saver.
Opening up a separate account is not so much about the amount of money you'll add to it. It's about taking intentional action toward your goal to save money. This is what savers do, and you're a saver now! So, take your $14.63 down to the bank and open up a savings account.
Ask your bank if they have a savings account with no fees or required minimum balances. You're going to be working hard to build up that $5 or $10 a week, and the last thing you want is for the bank to take a cut.
If they say no, because you will get dinged if you take money out from an ATM or transfer some to your checking, that's okay. Those penalties can work in your favor by keeping you from making impulsive spending decisions.
Every dollar you add to your savings is special because one day it's going to make your dreams come true. So, start treating it like it's special.

#4 Cut out unnecessary expenses
You might think you only have $10 to spare for savings every week. And, if that's *truly* the truth, then that's okay. As long as you start, then you're on the right track.
However.
I can almost guarantee that you could scrape up more cash with a closer inspection. Because, unless you live for free in your parent's basement, hitchhike to work, pay for a landline instead of a cell phone, or have the social life of a nun, then there are probably some spending areas that can be trimmed.
But wait! I don't want to give up my Netflix and Spotify Premium! And, well, my morning drive through Starbucks. Or happy hour with my gal pals. And I can't stay in shape without my gym membership! And what about all the money I save at Costco? And I neeeeeed my groceries delivered!!
Yep. Saving money means spending less. And, that might sting a little. You'll need to identify what's necessary, and what's not. Then, you'll have to figure out what you're willing to give up to have a more secure financial future.
In other words, figure out what your priorities are. Because nobody else will care more than you do about your money.
Try this handy exercise to get you started:
Write down your biggest, most audacious aspirations for 10 years from now. You want to be completely out of debt? Write it down. You want to move to a cabin in the woods? Write it down. You want to see your grandkids every day or have a huge vegetable garden or start a non-profit or take your whole family on a European cruise? Yes, write them all down.
Then, analyze your spending with a fine-tooth comb, looking for every expense that isn't necessary. This might include monthly subscriptions, eating out, new shoes, weekend getaways, or going to the salon for color touch-ups. It could also be that late-model vehicle parked in your garage you're making payments on. Or, even the 4 bedroom house you're living in that's sucking up 43% of your income. Consider every expense as one that has the potential to be eliminated or reduced. Then, add up the total you would save if you weren't spending money on these things.
Now, have a little come-to-Jesus moment with yourself by answering this question: Is it more important to me to spend this money on all this stuff I don't need now, or to save it for the goals I want to achieve later? Write down your thoughts, and let your answer guide your decisions to change your current spending.
Of course, this is not all or nothing. Your spending priorities will change and adjust as you figure out what's really worth letting go of and what you're not willing to give up.
What's most important is being intentional with how you use your money, and letting your priorities inspire your financial decisions. Once you are fully aware of what expenses are optional, you can make those decisions from an informed perspective, and not out of impulsive feelings.

Related Post: How To Save $1000 A Month (Without Working More)

#5 Check your insurance policies
If you're looking for ways to save money, it can be a good idea to check your insurance policies. There are a few different ways you could cut your bill.
First, get some quotes from an insurance broker. Even if you're devoted to the insurance company you've been with for two decades, it never hurts to know how your premiums compare to a competitor's. You may find it's worth it to make the switch.
Second, talk to your insurance broker about your current policy. Ask them how you can reduce the premiums by changing the coverage. You could bundle your policies, increase the deductible, or remove extra coverages that aren't necessary. Also see if there are any discounts you might qualify for, like being a member of AARP or having an excellent driving record.
Third, calculate how much you'd save if you paid in full every time your insurance renews. Often, this could end up keeping several hundred dollars in your pocket. If you can't swing the big, one-time payment, maybe you could shave off a few bucks by setting up auto-pay.
Finally, consider the vehicle you're insuring. If it's one that insurance companies consider a greater risk, you'll be paying a higher bill. Maybe trade in that souped-up sportscar for one more practical (and "boring").
And, it should really go without saying, but I'll say it anyway.
If *you're* the reason your insurance is so high, then stop speeding and start cleaning up your driving record. With every accident, traffic violation, and insurance claim that gets added to your history, you'll be paying more in insurance – which means less in savings.

#6 Minimize fees
If saving money while you're broke is something you're committed to, you must pay your bills on time.
Bills quickly become more expensive when interest and late fees are added to your balances. These additional costs can eat up any potential savings you'd planned for.
You might also be paying extra for dropping below minimum balances in your bank account, triggering overdraft protection, or using ATMs that aren't in your bank's network.
Review your bank's fee policies so you can avoid any action that may eat up some of the cash you're trying to save.

#7 Avoid taking out payday loans
Taking out payday loans to make ends meet because you're broke might be tempting, but it's something that can make your financial troubles even worse. These types of loans will only lead to a vicious cycle that keeps you stuck in debt and living paycheck to paycheck.
Payday loans and other kinds of consumer loans such as title loans also attract massive interest rates which take even more money out of your pocket, which is not something you want to do when you're trying to save money.

#8 Automate your savings
Automating your savings is perhaps the easiest and most effective way to save money, even when you're broke. When you take savings right off the top – before anything else is spent – you make your financial future a priority. Some call this paying yourself first, and it's the golden key to building savings and wealth.
You could set up a direct deposit or auto-transfer to put a portion of your paycheck into savings before it even hits your checking account. If that isn't an option provided by your bank, you should ensure that you personally transfer a pre-determined amount to savings whenever you get paid. You can do this manually through your bank's website, or with a mobile app like Digit or Acorns.
Once you've set aside some cash in your rainy-day fund, the rest of the money is yours to spend on bills and discretionary purchases. Just be sure there's enough in your checking to cover all of your expenses.
Of course, if money is tight, you may assume you have nothing extra to save. Don't let this mindset keep you from setting up automated savings. As mentioned before, you shouldn't discount transferring even $5 to your savings.
Start where you're at, and take small steps to build the habit of saving. Over time, those $5 bills will add up.

Related Post: 11 Ways To Automate Your Savings

#9 Sell unwanted household items
Once you've stopped spending money unnecessarily, reduced your expenses, and automated your savings, you're on your way to stashing money away like a boss – even if you're broke.
The good news is, you still have a few more tactics you can use to save money. One of these is selling unwanted, unused, or unnecessary items that you own.
When I was a kid, I remember my mom holding big yard sales and always making hundreds of dollars. She loved all the setup and work that goes into attracting buyers and bargaining prices. This is a quick way to make some extra money, but it does require planning and organizing and a whole weekend to spare.
If you'd rather skip setting up tables and putting up signs, you could choose to put things on eBay, Craigslist, or NextDoor. Even Facebook has an online classifieds portal, called Marketplace. This approach typically takes longer to sell items than a good ol' garage sale, but you usually have less bartering and can sell at a higher price.
For high-ticket items like antiques or fine jewelry, try high-end consignment stores in your area. Sell your gently used, high quality clothing, shoes and accessories on sites like Thred Up or Poshmark.
Go through your home and sell the things that you don't love or use. Doing that will not only free up a lot of space, but it will bring in some extra money that you can use to pay off debts or build saving. Just make sure you have a plan for the money you make, so your profits don't end up being wasted on impulse purchases.

#10 Buy used (or get free)
Just like you can make money from selling your unwanted items, you can also *save* money when you buy used goods from other people.
When you're too broke to save, you can free up some extra cash by choosing to buy gently used clothing, housewares, furniture, and other items instead of paying full price at the store.
Thrift stores are an obvious place to find used goods that are a fraction of the new price. However, there are several other choices where you can snag great bargains.
If you're looking for brand-name styles, check out Plato's Closet and My Best Friend's Closet. If you prefer the convenience of shopping online, shop Thred Up or Poshmark.
For just about anything you're in the market for, browse auctions on eBay or find local sellers on NextDoor or Facebook Marketplace.
Also, don't forget those Saturday morning garage sales, where sellers are really motivated to get rid of stuff they don't want anymore.
Finally, be sure to check out the FREE section of any online classified site. You can sometimes even set up an email alert that will notify you of the latest items people are giving away for free in your area.
One last suggestion to free up more cash for savings is to simply go on a spending strike. If you can swing it, commit to not buying *any* clothing, shoes, or housewares for a few months. This is a great exercise in learning how to control your money and put your financial goals first.

#11 Challenge yourself with no-spend days
One of the most obvious ways to save money even when you're broke is to simply stop spending.
Of course, you have to pay for the roof over your head and the food you eat. But, what about those spontaneous coffee-shop drive-throughs, that candy bar at the checkout aisle, or the movie you rented on Amazon? All of those small expenses add up over time and keep you from achieving your saving goals.
One way to be more mindful of your spending is to set up no-spend challenges for yourself. Just choose a day (or two) during the week when you commit to not spending any money. On anything. For any price.
This means no Starbucks coffee, no Doritos out of the vending machine, no take-out on the way home. Not even a quarter in the parking meter.
You might need to plan ahead if you usually pay for public transportation or parking for your job. You could pick a day when you don't work, or ask to hitch a ride with a co-worker.
The point is not about making life inconvenient so you can save a few bucks once a week. It's about discovering where you could cut back on a regular basis so you can achieve your saving goals faster.
Denying yourself the conveniences you're in the habit of paying for will help you become aware of what your priorities really are, and your capacity to save money when you really want to.

#12 Refinance your debt
One reason you might feel like you're broke all the time is because of the debt you're in. Not much is worse than having to give what little income you make to pay off stuff you bought months (or even years) ago.
Still, you can minimize the cost of your debt by lowering the interest you're paying. This could be done in a number of ways.
One strategy I like to use is the 0% balance transfer promotion. A quick Google search will show you those credit card issuers that are extending a 0% offer if you transfer your current balances to their card. The 0% rate typically lasts anywhere from 6 to 18 months, which can reduce your total debt significantly if you currently have balances with high interest. You will typically have to pay 2-3% of your balances in fees, so you should always weigh this cost against the interest you'd save. The higher the interest you're paying now and the longer the promotion lasts will save you the most money.
Another way to lower your interest is to consolidate your consumer debt into one, lower-interest loan. This could be a home equity loan, a bank loan, or even a private loan from someone you know personally. Just be sure the terms you agree to don't have you paying more in the long run. Along with getting your interest rate lower, you'll also want to minimize the repayment period so you can get your debt paid off as soon as possible.
For student loans, you can combine multiple balances into one private loan at a lower rate. Again, try to refinance with shorter terms to speed up repayment.
Finally, you might be able to refinance your mortgage at a rate low enough that potentially saves you hundreds of dollars each month.
All of these options will require you to have a good credit score and payment history, so check your credit report before you start applying for a lower-interest loan.

#13 Get out of debt
Minimizing your interest rates is a great start to lowering your debt. But, if you want to stop feeling broke all the time and start achieving your major financial goals, you need to get rid of debt altogether.
As long as you have debt payments, your capacity to save money will be drastically limited. Once you get lower rates locked in, create a debt payoff plan that can help you achieve a debt-free life.
Creating a debt payoff plan might sound like an enormous task to accomplish, but it's really not difficult. Here is a quick step-by-step to get you started:
Gather all current debt statements. Depending on your priorities, you could include your mortgage or not. But definitely include credit cards, student loans, car loans, or any other interest-bearing loan. Include any medical bills as well, as this is also debt even though they typically don't have interest.
Write down the balance of each loan, the interest rates, and the minimum monthly payments required.
Prioritize your debt balances in the order you want to pay them off. You could knock out the smallest balances first, or start with those that have the highest interest rates. It's your choice.
Use your budget to determine the amount you can apply to your debt every month. Find ways to cut expenses and even make more income so you can knock out your debt faster.
Pay the minimum on all of your debt balances, *except* the one that's the highest priority. For this one, you'll maximize the payment with the remainder of your budgeted amount. So, for example, let's say you can budget $500 a month for debt payments. Besides the balance you want to pay off first, you have 5 more balances with minimum payments that add up to $275.00. After you pay those, apply the remainder of your budgeted amount ($225) toward your highest prioritized debt.
When you've paid off your first prioritized debt balance, start paying down your second prioritized balance using the same method.
That's it! Now that you have a plan, work the plan. Your plan does you no good if you don't actually implement it and stick to it.
Once you start knocking out balances, your focus and perseverance to be debt-free will increase. You'll start to have more confidence in your financial decisions and be more motivated to do whatever it takes to crush your debt. It's a great feeling!
Wiping out your debt will allow you to use the money you paid in interest to grow your net wealth with savings and compound interest instead.

Related Post: How To Create Your Own DIY Debt Management Plan

#14 Be flexible
I'm pretty sure when you made your budget (see #1) you didn't chisel it into stone or sign it in blood.
Your budget is meant to be flexible, so you can make adjustments whenever you see fit. After all, it's your money, and you're the money boss.
This means you need to routinely evaluate your budget. Your budget should never stay the same and be revised regularly, preferably on a monthly basis.
The main reason for regularly evaluating your budget is to find ways to maximize your income. You should always look for spending areas you can reduce and income opportunities you can increase.
As you learn to budget your money and develop a savings habit, you'll become more aware of ways you can make the most of your income. When you do, adjust your budget so you can reach your saving goals faster.

#15 Take it slow & steady
A lifetime of not always making the right financial decisions won't be rectified by saving all the money you have now. Just like losing weight, developing the habit of saving takes time. Furthermore, if you're totally broke, the idea of saving anything might seem unreasonable.
This is going to require some patience and diligence. Give yourself and your new choices time to gain some traction. Don't give up after 3 weeks because you think that $24.86 in your new savings account is worthless.
Becoming a saver is all about the habits you practice. If you really want to have a 6-month emergency savings fund within the next 3 years, you need to first start with practicing the habit of saving now. Don't give up before you start just because you can't save what you think you *should* be saving.
Remember – focus on what you can control, and how every saving decision you make is an improvement over not saving anything at all.
So, write down your financial goals, no matter how out of reach they currently appear to be, and then start saving. You'll only fail if you give up.

Video: 18 Money Tips For Broke People

Final Thoughts
I know what it's like living paycheck to paycheck. Believing there's no room to save anything.
I've also learned that half of this belief is my financial situation, and the other half is my mindset.
Once you accept that all of your income and expenses are simply choices you've made in the past, you'll realize that your financial future can be improved just by making better choices.
You can choose a different job.
You can choose a different neighborhood.
You can choose a different house.
You can choose a different vehicle.
You can choose a different lifestyle.
You can choose a different mindset.
Life is all about choices. When you choose those things that align with your priorities and values, you'll achieve the life you want.
Learn to see your circumstances from a different view. Break that "broke" mindset and replace it with one rich in possibilities and opportunities.
It's time to take control, and believe you already have everything you need to save money for a secure financial future.
Are you ready?

Don't forget to grab your free 50 Tips to Save More Money checklist!

Other posts you may enjoy:
Want to save this post for later? Pin it to your favorite Pinterest board!
How To Save Money When You're Broke: 15 Smart Strategies