These days there are so many ways to make money online.
Some are legitimate, most are not.
I joined Pinecone Research a few years ago and have completed several surveys for which I've been paid.  I don't make anything close to a full-time income, but it's an easy way to make a little extra spending money.
This is my own Pinecone Research review about how I've made a small side income with this legitimate survey site.

Pinecone Research review: Is it legit?
Pinecone Research is a trusted and reputable market research company that has been around since 1998.  They have been a long-time leader in the survey industry and provide a legitimate way to earn money online.
Their purpose is to gather input and opinions from selected consumers for the development of new products going out on the market. They do this by recruiting "panelists" and sending them surveys to complete.
Yes, I did say *recruit*. Pinecone Research is somewhat selective with who they allow to sign up.
You need to either find one of their sign-up banners on the internet, or be given a direct link (which I share below).
The application isn't an open door to sign up. They only accept those who fill certain demographics at specific times of the year. (It all depends on what they need at the time.)
I've read that they typically open up applications at the beginning of the month – but spots fill up quickly.
The good news is that their banners are not too difficult to find (if you're a frequent browser) and you can apply multiple times if you don't get accepted.

For more ways to increase your income, grab this free copy of 101 Side Hustle Ideas!

How to join Pinecone Research
Although signing up with Pinecone Research is absolutely free, they are considered an "exclusive" survey company because nobody is guaranteed a spot on their research panel.
Also, you can't sign up through their website.  Instead, you can click on one of their banner ads which are displayed on various websites, or you can use a direct link to the Pinecone Research signup form.
A few things to know about signing up for Pinecone Research surveys:
You must be at least 18 years old to join
They are available in the United States, the United Kingdom, Canada and Germany
Only ONE member per household is allowed to sign up
You MUST complete a profile survey in order to be accepted
As mentioned earlier, filling out the form and the survey does NOT guarantee you a spot on their research panel
If you do not meet a specific demographic that they are looking for, then you may not get accepted. But this doesn't mean you can't keep trying! They are a research company so their qualifications will change over time as their research needs do. Try again at the beginning of each month (before their spots fill up).

How to fill out Pinecone Research surveys
Once you are accepted as a "panelist", you will begin to receive emails to fill out surveys. There is always a link in the email that goes directly to the survey they'd like you to complete.
The nice thing about Pinecone Research surveys is that they will only send you surveys that you already qualify for. They use your profile to determine which surveys to send to you, and as long as you complete the survey, you'll get paid!
It usually takes me between 10 and 20 minutes to complete a survey. This depends on the number of questions, but I've also occasionally experienced slow response time on their website.
Sometimes I have waited too long to click on a survey link and it is no longer valid. When you receive an email from Pinecone Research with a survey link, it's best to complete the survey within a few days. They usually send a second email as a reminder if you don't complete the survey within a week.

How you make money & get paid
After your very first survey is completed, they will automatically mail you a check to your address. This is done for security reasons, but for every survey after that, you choose how you want to be paid.
Pinecone Research uses a point system for rewards. Each completed survey will earn you 300 points, which is equivalent to $3. These points will accumulate until you decide to redeem them.
You can redeem your points in their online shop, which has a large variety of items to choose from. Anything from books to luggage to electronics to sports equipment! There are hundreds of items to choose from, and they are all priced by points.
If you don't want to redeem your points for merchandise, you can choose from many different gift cards. Of course, if you just want cash you can request a check to be mailed to you or payment through Paypal.
I shop a lot on Amazon, so I have always redeemed my points for virtual Amazon gift cards. My order is processed within minutes, and then Pinecone Research provides a gift card number and the link to Amazon to add the amount to my gift card balance. It's super easy!
Like I mentioned before, I don't make anything close to what someone would call a full-time or even a part-time income. It's just a little extra spending money, but it's really easy to make for just a few minutes of work.


Security & support
Pinecone Research has an extensive Privacy Policy on their website that explains, in great detail, how they protect the information they collect from their panelists. They provide an email address specifically for any privacy issues, as well as the location of their legal department.
They also provide information regarding previous scams of third parties using the Pinecone Research name and logo for illegal purposes. Unfortunately, unethical parties have made attempts to swindle money and passwords from unfortunate victims in the past. Pinecone Research offers helpful details about how to avoid these scams and a contact page to report any fraudulent activity.
The membership agreement is clearly laid out on their site, and there is a contact page to ask questions or request assistance.
They don't offer phone or chat support, but I've always found their email response to be prompt and professional for the few times I've needed to contact them.

The good & not so good
Here are the good reasons to sign up for Pinecone Research:
It's easy to sign up – just use the link above and fill out the form!
You only receive surveys that you're already qualified for. If you receive a survey link, you can know for sure that you'll be paid for it if you complete it.
Each survey can take an average of 10-20 minutes, depending on the number of questions and how well their website is responding.
You get paid 300 points ($3) for every completed survey, and your points accumulate until you are ready to redeem them.
When you redeem your points, processing is fast. Your order for merchandise or a cash payout is processed within 3-5 days. If you order from their selection of virtual gift cards, you can use those gift cards within minutes.
Pinecone Research also offers product testing surveys. If you agree to do the survey, they may send you a product to test in the comfort of your home. You get paid for the completed survey, and get to keep the product!
And here are the not so good features about Pinecone Research:
They are selective about who they choose to be on their panel. Just because you sign up doesn't guarantee they will accept you. It all depends on what demographic they are looking for at the time of your sign up, and if you fit that demographic.
You probably won't receive that many surveys – I usually get 1 to 4 a month (though I imagine you could get more if you're in a different demographic). You'll need to keep an eye on your email because that's the only way you'll know you've received one.
There is not an option to get an immediate cash deposit into your bank account. If you want cash, you'll need to wait on the time for processing and typical mail delivery to get paid by check. The only way to receive payment immediately is by redeeming your points for a virtual gift card.
Only one person per household can be on their panel. This means nobody else who lives under your roof can apply. If Pinecone Research receives multiple registration forms from the same household, they will void ALL registrations from that household.
Pinecone Research reserves the right to remove people from their panel. So, if you are accepted, you can still be removed for a variety of reasons later.

Don't forget to download a free copy of 101 Side Hustle Ideas!

In a nutshell
Over the past year I have enjoyed completing surveys for Pinecone Research. The surveys are easy to understand, don't take a lot of time, and provide a little extra spending money for me.
There are many survey sites to choose from on the internet, but you need to be careful you don't get scammed. Pinecone Research is a legitimate survey site that has been around for decades.
If you want to get started with making some extra money through surveys, Pinecone Research is a good place to start. They are reliable, have good customer service, and offer hundreds of ways to redeem your points.
Try it out!  Use the link to fill out their form, wait for an acceptance email and then keep an eye out for your first survey.  If you find it's not for you, you can always remove yourself from their panel.  But if you don't mind filling out surveys, it's an easy way to make a little extra cash.
I hope you've enjoyed this Pinecone Research review!  If you're interested in other ways to increase your income, check out my post to learn about 50+ profitable side gigs.
Other posts you may enjoy:
Do you want to remember this post for later? Pin it to your favorite board and share it with others!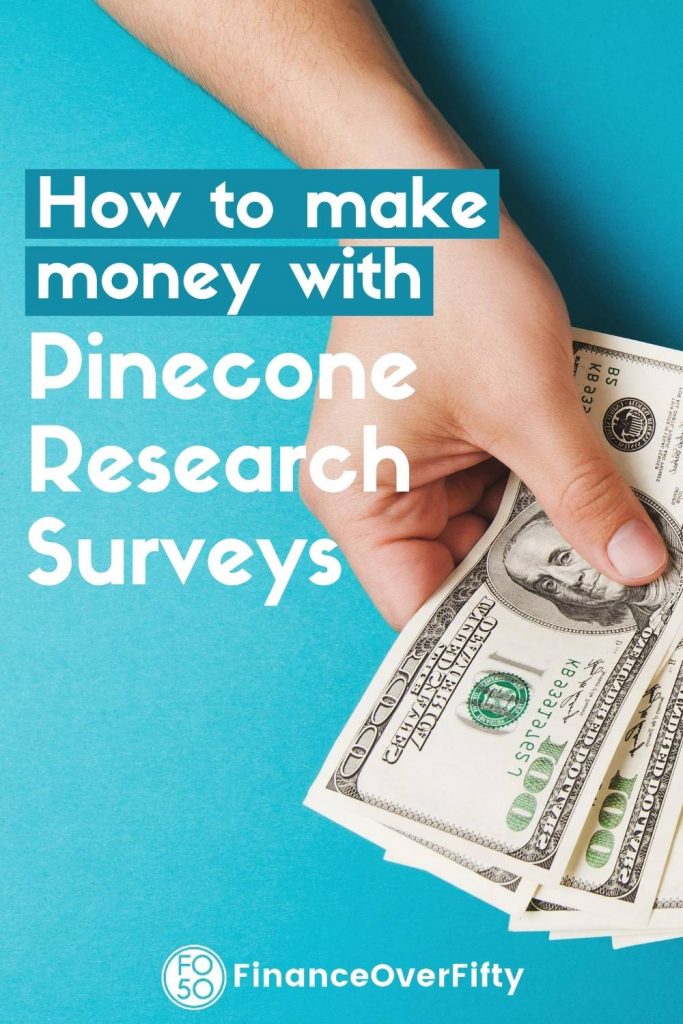 Pinecone Research Review 2023: An Easy Way To Make Extra Money