December's end-of-year financial checklist for 2020
Raise your hand if you're relieved to see this year finally coming to a close. (I see you!)
I have to give props to 2020, because it's definitely given me one wild, unexpected ride.
Here are just a few experiences 2020 gave me for the first time in my life:
Living through a worldwide pandemic
Being required to wear a face mask any time I'm in public
Relying on unemployment for the past 9 months
Worrying I won't find toilet paper at the store
Having to make reservations to go to church
And, as crazy and inconvenient as all of these sound, I know there are many others that have had to endure so much worse.
So, I'm greatly relieved to see the end of 2020 in sight. Because, I believe 2021 has better things in store for the world.
Of course, I can't see the future, but it's what I *choose* to believe. I've done enough stressing and worrying this year to last me a lifetime. I'm ready to move on and experience more hope and abundance in my life.
How about you?
(I hope you said yes!)
Even when life throws you curveballs, it's still so important to keep your eyes on the goal. Don't focus on how your finances may have suffered this past year. Instead, keep looking forward, moving forward, and making positive decisions that propel you forward.
Maybe you didn't experience the progress you were hoping for last December. That's okay. It's not the lack of progress that matters. What matters most is that you don't give up.
That's why I create these monthly financial checklists – to help keep you focused on taking steps that support your financial goals.
So, as we wind down this rollercoaster of a year, I'm recommending 5 tasks you can do to stay on track with your money management.
With the holiday season, schedules often get busier and priorities get rearranged. Your finances may create additional stress for you (especially this year).
So, I just want to encourage you to continue to be intentional about your finances – however small the task – so you can start the new year on the right foot.
You can use this list or make your own to be purposeful about staying on track. The most important thing is to make sure your actions are in line with your values.
Here are 5 tasks for December's end of year financial checklist. 

Want financial checklists for every month of the year? Download this 3-page PDF for FREE!

1. Use up your FSA funds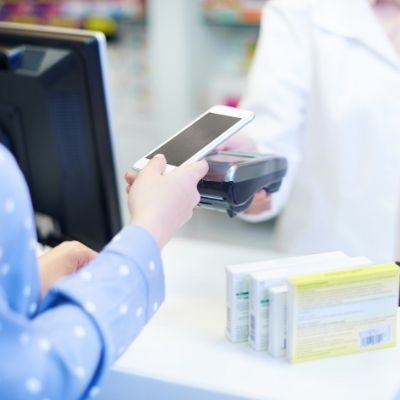 If you have a Flexible Spending Account that expires at the end of the calendar year, be sure to use up whatever balance there is. Otherwise, you will lose that money.
The qualifying expenses are limited, so plan how you will use up the remainder of the funds. FSA funds can be used for co-pays, prescriptions, deductibles and medical equipment. It cannot be used for insurance premiums or over the counter products without a prescription.
On the November Financial Checklist, one task was to plan end-of-the-year doctor and dentist appointments. Use your FSA funds to cover any out-of-pocket costs resulting from your final medical visits for the year.
If you find that you have an excessive amount in your FSA, consider lowering your contributions for 2021. The last thing you want is to lose money just because you didn't use it.

2. Consider refinancing high-interest debt
One of the easiest ways to lower your debt is to refinance for a lower interest rate. December is a good time to make this move as you prepare for new goals in 2021.
In the past, I've refinanced our credit card debt and our mortgage to lower the rates. Because of this, we've literally savings thousands of dollars in interest.
If you have a significant credit card balance, look for a promotional 0% rate to transfer to. You will likely have to pay a 3% transfer rate on the balance, so you'll need to weigh this cost against the time you'll need to pay it off.
With our total credit card balances, the 3% fee ends up being significantly less than the interest I would pay over the time we need to pay it all off.
Probably the biggest impact you can make is by refinancing your mortgage. As of the date of this post, mortgage rates are at historical lows. If you can qualify to refinance, completing this one task can potentially save you thousands over the life of your loan (as well as significantly reduce your monthly mortgage payment).
With a little research to find the best rates, you can use your good credit to drastically reduce the amount of interest you're paying on your debt.
Take the time this month to cut those rates so you can set yourself up to reach your financial goals faster in 2021.

3.  Get your taxes organized
I know there's usually a lot going on in December, and organizing tax documents is probably not at the top of your to-do list.
But, if you take the time to do it now, you can possibly make some adjustments before the end of the year to ensure the best possible outcome in April.
I always create a file folder in January to hold anything tax-related that I receive throughout the year. So, most of my organizing is done on an ongoing basis. But, inevitably I find stray Goodwill receipts in a random drawer that need to be filed away.
You can make sure you have the required documents to support any deductions and credits you plan to take, and check in with your tax person to see if there's any other paperwork you'll need.
Of course, you won't receive W-2 forms and interest statements until January, but if you get everything else organized now then it'll be a snap to put it all together and get those taxes done early.

4.  Cut your 2020 tax bill
If you're close to meeting the standardized deduction by itemizing, you can possibly tip the scale by making some additional expenditures before the end of the year.
One way is to pay January's mortgage payment in December. This will give you 13 months of mortgage interest deductions for 2020.
You can also pay next year's property taxes early to get a little extra tax deduction. This tax payment can be claimed in the year it was paid.
If you make a contribution to a non-profit organization on a regular basis, consider giving a portion of next year's donations this year. If you don't want to increase your annual giving, you can give less next year and take the standard deduction the following tax season.
Also, if you're close to meeting the minimum deduction for medical expenses, you can get elective medical procedures done so you can apply those expenses to your 2020 taxes.
For those with college students, pay the first quarter tuition bill for an extra tax break. You don't even need to itemize to get this bonus, thanks to the American Opportunity Tax Credit. You can also prepay for undergrad classes related to your profession and claim the Lifetime Learning Credit.
One more idea is to max out your pre-tax retirement account contributions. This will lower your take-home pay and reduce your tax bill. But most importantly, you'll be giving more savings fuel to the compound interest flame!

5.  Write down your 2021 financial goals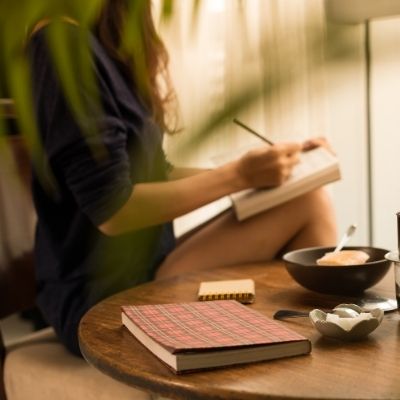 Most people wait until January to make any resolutions or goals for the new year. But, if you want to hit the ground running on January 1st, put your goals in place in December. That way you start with focus and have a clear direction on the first day of 2021.
For me, thinking about goals always give me a renewed sense of inspiration and hope. Just writing them down makes me feel excited about what's possible, and how they'll get me that much closer to my dream retirement vision.
But I can also feel a little overwhelmed when I think about everything that I want to accomplish. Where do I start? What takes priority? How will I get it all done?
If you can relate, here are a few guidelines you can use when developing your own 2021 financial goals list:
Know what you value. If you are clear on what you value, you can more easily determine goals that will be meaningful to you. You'll be able to prioritize effectively and be certain your efforts will result in a more fulfilling life.
Break down your goals in time chunks. Some goals may take a week to achieve, others could take a month, and still some may require the whole year. As you write down your goals, assign a deadline so you can have a sense of when each goal should be reached.
Use the SMART structure. SMART is an acronym that stands for Smart, Measurable, Achievable, Relevant, and Time-bound. If you apply each of these characteristics to every one of your goals, you will increase your chances of achieving them. For a more detailed guide to SMART goals, read this helpful article.
Having some goals is a great way to be more purposeful in your life.
But, having the right goals that are value-driven can change your life.

Download financial checklists for all 12 months of the year for FREE!

Plan your end-of-year financial checklist
It's easy to let all the end-of-the-year, holiday activities keep you from staying on track with your finances. After all, decorating the tree and wrapping gifts is so much more fun, right?
Believe me, I would much rather be reading a book, by the fire, sipping on eggnog, than thinking about taxes.
But I know that if I spend a little time and intention to make sure my finances are in order, it frees my mind up to be fully present with my loved ones. It also keeps my mindset sharp and aware, and I'm less likely to make financial choices I'll regret come January.
As you plan for all the festivities this season brings, I encourage you to also make time in your schedule for wise money practices.
Be intentional about planning your checklist by making appointments with yourself to get each task done.
That way, you'll set yourself up for a successful 2021!
Other posts you may enjoy:
Want to remember this post for later? Pin it to your favorite Pinterest board!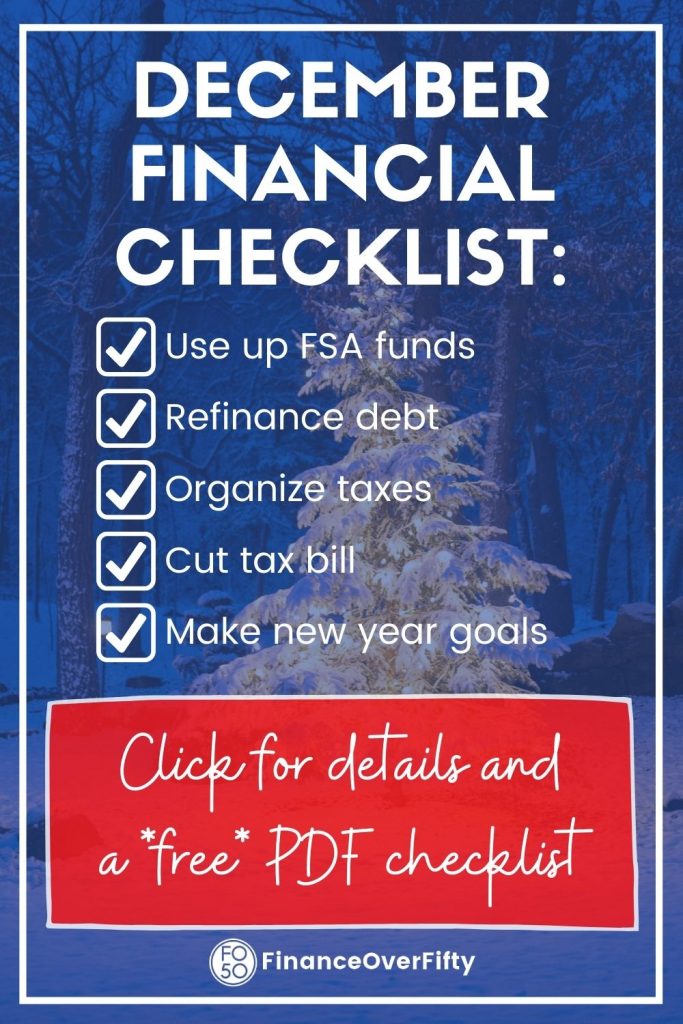 End of Year Financial Checklist: 5 Smart Tasks For December